Art as a symbolic language and the use of symbols, images and metaphors to heal and understand; 'art making as therapy' and 'art therapy' and trauma informed art interventions…..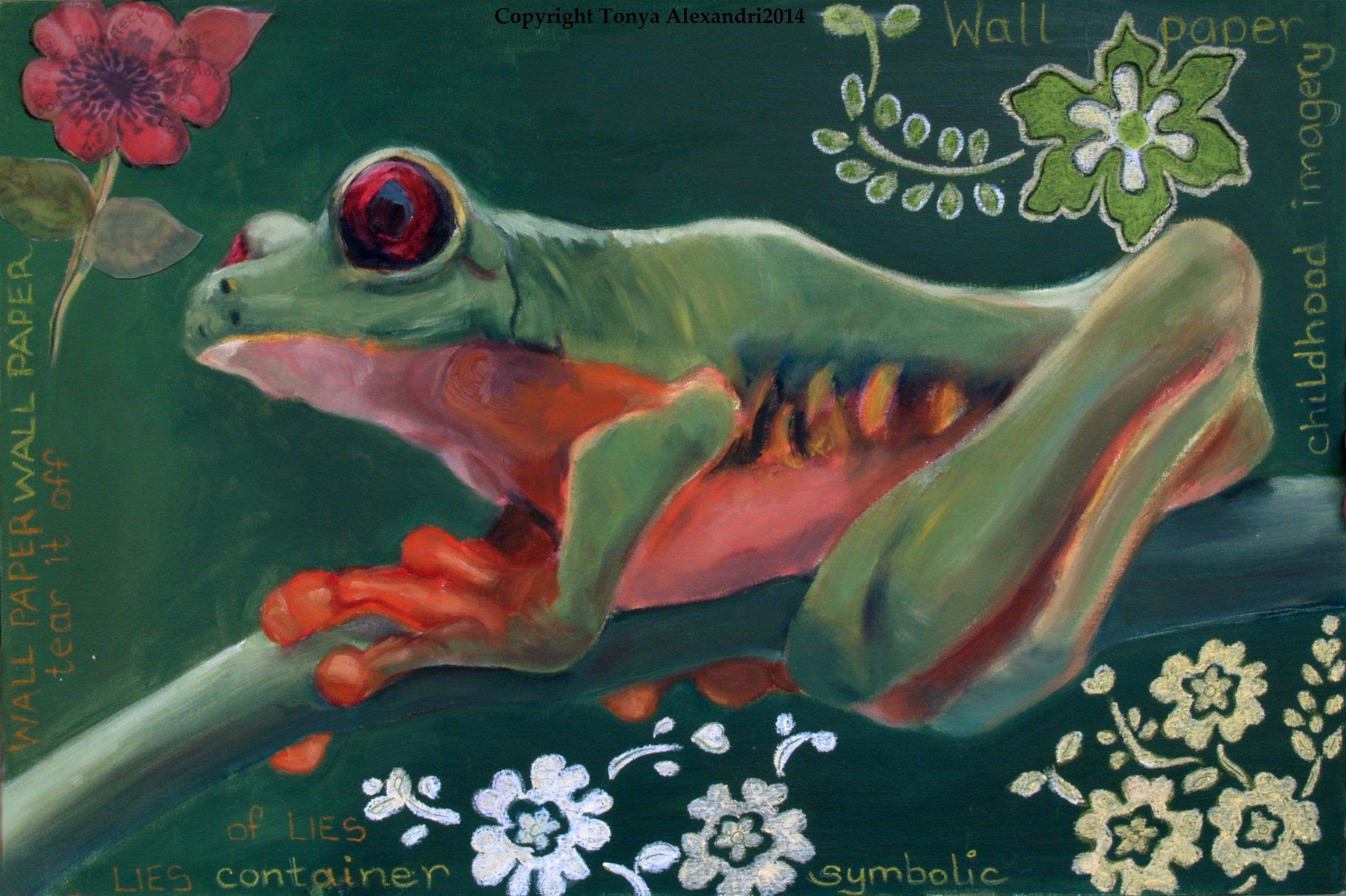 (The Wallpaper, oil painting, 2005)
We now know, not only what we have known empirically for a very long time, but also through more recent and current research findings, that art making has a positive effect on our embodied mind and our well being and growth in general. Engaging in art making can be inherently therapeutic and conducive to facilitating neuroplasticity; however, art as therapy is distinguished from art therapy, although it could perhaps be viewed on a continuum. In chapter one of Art Therapy and Clinical Neuroscience Noah Hass-Cohen  claims that 'the action of art-making is a unique way in which art therapy helps clients resolve, in the here and now, responses to residual fears and memories of disturbing events. Therapy interventions that have the potential to rewire the brain also have the power to recondition such traumatic residues. For art therapists, it makes sense that the excitatory and pleasurable effects of art-making and the ability to distance oneself from a tangible image can mitigate the fear of being re-traumatized (2008, Jessica Kingsley Publishers, Kindle Edition).
To begin with, research findings support that art therapy treatment interventions utilize the integrative capacity of the brain to create a more coherent self, to generate deeper insight, and therefore, to potentially facilitate positive change. Therapeutic treatment interventions are now based on understanding of neurobiology, the development of the brain, and the way our brain stores and retrieves traumatic memories. We now know that art processes can facilitate the non-verbal expressions of the right hemisphere and can give us the opportunity to discover meaning in the symbolic and metaphorical language of this hemisphere. Creation of art allows us to contain experience and dialogue with the metaphors, images and symbols depicted or communicated through art, and so ultimately, the process of making art can contribute to emotional reparation and personal growth. Alan Schore and many others have greatly contributed to the discussion of right brain, non-verbal, symbolic and unconscious communication and the important role of the right hemisphere in development and in therapy. The application of brain imaging has greatly expanded the understanding of the different functions and structures of the brain, which are involved in the processing of motor, visual, and somatosensory information, and has allowed the observation of areas and functions activated during different emotional states and activities and during the formation of memories. Lusebrink (1990, 1991) has studied the relationship between the processes of art expressions and brain functions. He has found, for instance, that the basic level of interventions with art media is through sensory stimulation; more specifically, he has found that visual feature recognition and spatial placement are processed by the ventral and dorsal branches of the visual information processing system. He suggests that 'mood-state drawings' echo the differences in the activation of different brain areas in emotional states. Malchiodi writes that the field (of art therapy) has widely embraced discoveries about art and the brain, information that supports 'the application of specific art-based approaches in the amelioration of stress, integration of trauma memories, treatment of Alzheimer's disease and dementia, reduction in pain and fatigue perception, and improvement in quality of life, especially for those challenged by disability or illness' (Cathy Malchiodi, PhD, © 2013 Cathy Malchiodi).
Secondly, as mentioned above 'art as therapy' is distinguished from 'art therapy', even though it could be viewed on a continuum. There are many definitions of art therapy. One definition of art therapy is based on the idea that art is a means of symbolic communication. This approach, often referred to as art psychotherapy, emphasizes the products–drawings, paintings, and other art expressions–as helpful in communicating issues, emotions, and conflicts. The art image becomes significant in enhancing verbal exchange between the person and the therapist and in achieving insight; resolving conflicts; solving problems; and formulating new perceptions that in turn lead to positive changes, growth, and healing. In reality, art as therapy and art psychotherapy are used together in varying degrees' (International Art Therapy Organization). However, art therapy is separated from self-help art making and art creation in that there is a helping professional who assists healing and change. A relation is created between the therapist and the individual seeking help or change, and a dynamic interaction takes place between the art process, the art products and the dyad (therapist-client), which allows a purposeful dialogue to emerge. Art therapy is recognized by many as an intervention that facilitates the expression of mind-body connectivity through the remediation of acute and chronic stress (Achterberg et al. 1994; Hass-Cohen 2003; Kaplan 2000; Lusebrink 2004, cited in Art Therapy and Clinical   Neuroscience, 2008, Kindle Edition). Malchiodi writes that 'art as therapy' embodies the idea that art making is, in and of itself, therapeutic and that the creative process is a growth-producing experience. She provides examples to support the inherent therapeutic role of art making (e.g. art education with children with disabilities, community art programs for groups, shelters or neighborhoods with economic or social challenges, and art studios for people with mental illness) and claims that they 'seem to have similar goals and objectives and often produce the same outcomes as those programs defined as art therapy'. Malchiodi defines 'art therapy' as the application of the visual arts and the creative process within a therapeutic relationship, to support, maintain, and improve the psychosocial, physical, cognitive and spiritual health of individuals of all ages'. She claims it is based on current and emerging research that art making is a health-enhancing practice and describes art therapists as 'credentialed professionals who purposively use specific art-based approaches with children, adults, groups and families to support, maintain, and improve overall health, physical, emotional and cognitive functioning, interpersonal skills, personal development, and quality of life' (Cathy Malchiodi, PhD, © 2013 Cathy Malchiodi).
Art is a means of symbolic communication and expression of emotions, personality, and many other aspects of our human experience. Through symbols, images and metaphors we can express and depict memories and emotions and a single image or symbol can contain a group of connected memories or/ and emotions. Like in dreams in art an image or a symbol can contain so much information, meaning and emotion that it can become an object of deeper exploration and can allow deeper insight, which can promote healing. Art allows multi level understanding and one image can unlock deeply buried memories or dissociated fear or pain; therefore, art products can communicate a lot of important information relevant to therapy. Images and symbols can become containers of memories and emotions and can generate a complex verbal narrative. It is amazing how an image can narrate or contain a complex story and how one picture can simultaneously represent an event, an emotion, the perpetrator or a personality trait of the feared object and so on. A simple image of a building may represent or encapsulate all that took place within its walls and allow a coherent narrative to gradually emerge as the individual explores, deconstructs and reconstructs experience and reaches deeper understanding. Discovering meaning in the symbolic and metaphorical language of the non-verbal right-hemisphere is pertinent to therapy in many settings, both when working with psychological issues and / or complex trauma and when working with patients in clinical settings (cancer, AIDS, etc). Symbols, images and metaphors play an important role in therapy both during assessment and during treatment. Also, art making and activities can initially elicit metaphorical communication, which can then facilitate the processing of material with all age groups and especially children. Art making can also assist emotional regulation and provide an outlet to difficult emotions like rage or terror through a process called sublimation, mentioned in my previous post. Art also provides one more means to interact with disturbing or overwhelming material. Emotional regulation and reduction in negative affect may increase survivors' ability to tolerate traumatic memories, which in turn can allow habituation and revaluation of the material and capacity to construct a more coherent narrative. Erin King-West and Noah Hass-Cohen write that 'habituation is most often brought about by repeated exposure to the memories in states of gradually increasing calm and relaxation. Effective therapy therefore involves reductions in negative experiences and increases in positive ones' (2008, cited in Art Therapy and Clinical Neuroscience, Kindle Edition). In this book Erin King-West and Noah Hass-Cohen refer to a complex-trauma survivor's attempts to regulate emotions through art. They write 'in repeated attempts to regulate affect, Jo produced hundreds of intense color drawings representing what Spring (2001) considers a PTSD special artistic language. For C-PTSD survivors, this increased capacity to generate imagery is in itself a measure of therapeutic change (Brewin et al. 1996; Klorer 2001, cited in Art Therapy and Clinical   Neuroscience, 2008 Kindle Edition). They continue 'Jo used several visual schemas to represent affective and perceptual states. Disjointed stick figures illustrated Jo's tension and frustration. Spiral lines for the trunk and appendages spoke about her hyper vigilant perceptual alterations. Gingerbread men outlines, at times left empty or filled with color, pointed to struggles with self-identity. Along with her words, the images revealed her trauma-driven self-representations' (2008, cited in Art Therapy and Clinical Neuroscience, Kindle Edition).
Moreover, art is used more and more often in trauma informed interventions and approaches. Children and adolescents, in particular, are attracted to making depictions and are often more attracted to using art as a language than to verbal communication, especially, when it comes to difficult memories, emotions or other issues. Art also allows children or adult clients to share as much of the meaning of their art as they choose or are able to decipher and understand at any particular time. The product can also be revisited and re-explored as the therapeutic work proceeds. When a negative experience (event, emotion) is illustrated, it is then in some sense external to the individual, it has become an object, and thus, the material can be explored from a safe distance, often protecting the individual from overwhelming material or emotions. Through creating images 'it is possible to externalize and objectify experience so that it becomes possible to reflect upon it' (http://www.sagepub.com/upm-data/9585_019726ch1.pdf). Artistic expressions of children and adolescents also bypass 'don't tell' messages and threats that traumatized children and adults have received in many ways. Topics and events that they have been forbidden to verbalize may surface spontaneously in art. Adolescents and children can let the therapist know what is going on in their lives by visual representations of emotions and circumstances. Art therapy is a nonthreatening form of treatment for children and it generates awareness that can also assist the therapist in both protecting and supporting the client. In her book, Neurobiologically Informed Trauma Therapy with Children and Adolescents: Understanding Mechanisms of Change, Linda Chapman discusses a neurobiological understanding of trauma and presents a theoretically grounded model for the treatment of children and adolescents. She discusses how art can bypass left-brain activity and utilize regions of the brain where traumatic memories are stored. The model of treatment developed here is grounded in the physical, psychological, and cognitive reactions children and teenagers have to traumatic experiences and the consequences of these experiences http://www.internationalarttherapy.org/whatisarttherapy.html. Chapman writes about the creation of a neuro-developmental model of art therapy (NDAT), which facilitates the activation of the right hemisphere of the brain to help children and teenagers that have been exposed to violence, abuse and chronic trauma in general, 'to create a nonverbal narrative of the patient's experience through drawings that can be translated into a verbal narrative of the event'. Briefly, the NDAT model has four treatment phases. The first phase consists of helping the child learn how to relate to others without being out of control and to separate him/ herself from the past. In the second phase, the goal is regulations of emotions. Children initially use structured media (pencils, markers, collage, wood) or unstructured media.(watercolors, clay and various brushes). Then the young client is asked to switch media, colors, and paint every other minute. By providing different media during the intervention, Chapman writes that she enables the client to focus on drawing and on the present as a break from negative past experiences. After that, Chapman asks safe questions about the drawings because, as mentioned above, children may not feel comfortable talking about their issues or traumatic memories. In the third phase she tries to build cognitive homeostasis, which means 'having a cognitive understanding of the past and utilizing cognition-driven behavior'. Chapman refers to this phase as 'redefining, reclaiming, and practicing'. During the final phase of the treatment the child or adolescent has learnt to cope with the past and the therapist helps the child develop a support system. She also provides psycho-education about the different stages of development, explaining, for instance, that toddlers and preschoolers cannot remember their experience in detail or discussing peer pressure with school-age children and parent separation and independence issues with adolescents.
Furthermore, art provides us with an additional important means of communication, which is more accessible to children and people with diverse and special needs. Survivors of complex trauma are often 'mute' and art can provide an alternative means of expression of buried and non verbal implicit memories. Daniel Siegel writes that 'we must keep in mind that only a part of memory can be translated into the language-based packets of information people use to tell their life stories to others. Learning to be open to many layers of communication is a fundamental part of getting to know another person's life' (The Developing Mind: How Relationships and the Brain Interact to Shape Who We Are) Finally, even though in our society verbal communication is highly valued, our human experience cannot all be reduced to words. The following extract expresses a lot of points I have referred to in this brief text so far. The writer supports that 'although human communication may take many forms, in a society such as ours words tend to dominate. Not only are words the main means by which we exchange information about the world in which we live, but words are, for most people, the main means they have available for expressing and communicating their experience of that world. It is through words that most of us, in our daily lives at least, attempt to shape and give meaning to experience. Human experience cannot, however, be entirely reduced to words. Expressing how it feels to love or hate, to be traumatized or to suffer depression may involve far more than struggling to find the 'right' words. Some experiences and emotional states are beyond words. This is particularly relevant where difficulties originate in early infancy, a time when we experience the world in advance of any ability to describe it in words. It is here that art therapy offers a way of overcoming the frustration, terror and isolation such experiences may engender, by providing an alternative medium for expression and communication through which feelings might be conveyed and understood. Art therapy may prove helpful to people with a wide range of needs and difficulties for a number of reasons. In the context of a supportive relationship making images, and thinking and feeling in images, which among other things involves the use of the imagination and the taking of risks, can further a person's emotional growth, self-esteem, psychological and social integration (http://www.sagepub.com/upm-data/9585_019726ch1.pdf)
Tonya Alexandri, November 9th, 2014